FESTIVE CREAMY SOUP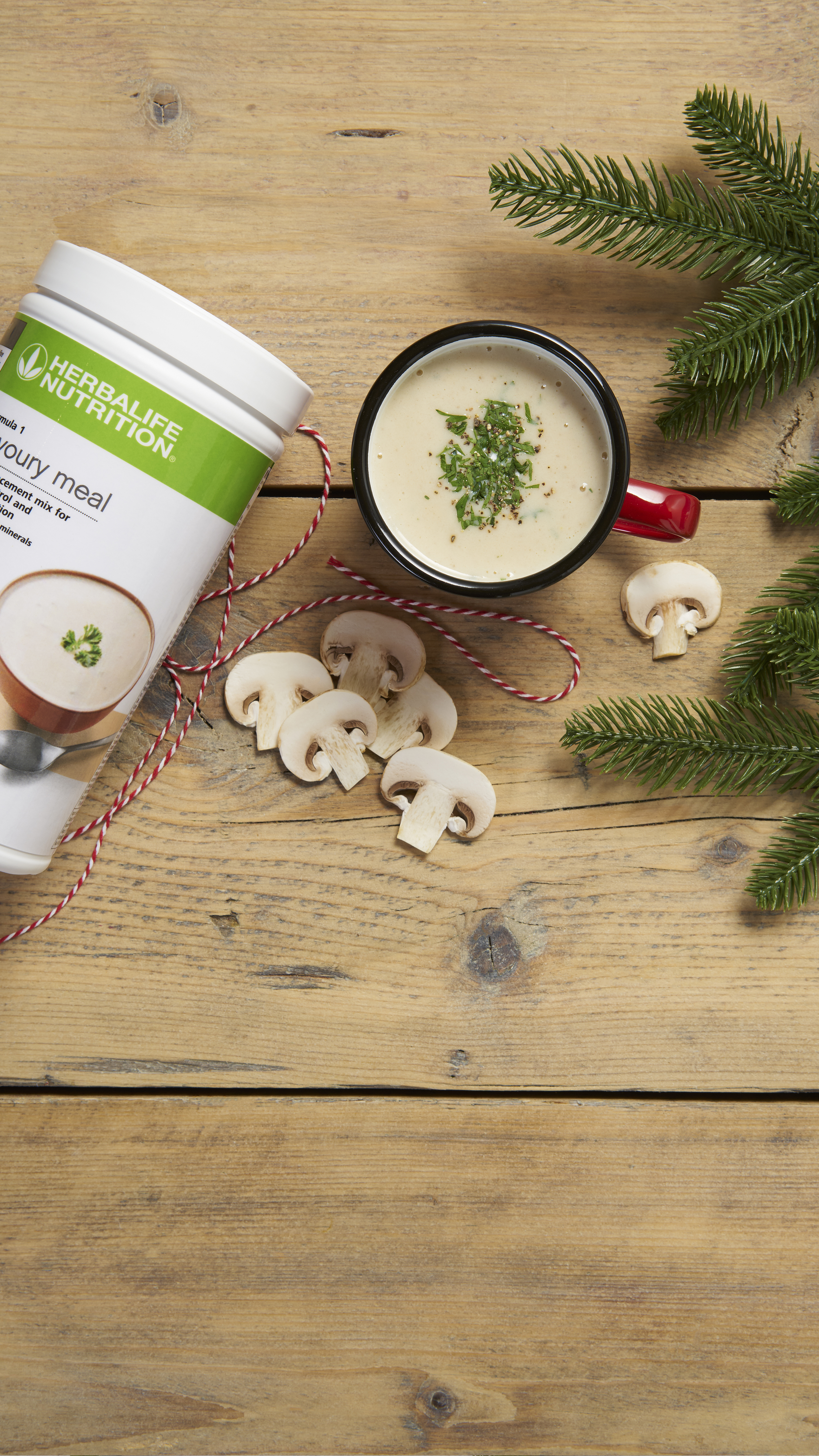 Serves 8
This tasty and creamy soup is made with F1 Savoury Mushroom and Herbs to create a cosy, warming and filling meal. Make it in batches and pop it in the freezer so you always have a mug or bowl to hand. A perfect German-inspired dish for those cold, wintery nights.
INGREDIENTS:
2 tablespoons extra virgin olive oil
1 large onion, diced
2 cloves garlic, crushed
1 red chilli, diced
1 x 5cm piece of ginger, peeled and grated
1 x stick lemongrass, trimmed, outer leaves discarded, then finely sliced
small pumpkin or 1 large butternut squash (approx. 1kg in weight altogether), peeled, deseeded and cut into roughly 3cm pieces
1 x 400ml tin low fat coconut milk
750ml chicken or vegetable stock
1-2 tbsp fish sauce
2 servings (52g) F1 Savoury, mushroom and herbs flavour
2 servings (24g) Formula 3 PPP
1 small bunch basil, shredded
METHOD:
Place a large saucepan on a high heat and add the extra virgin olive oil. Add the onion, garlic, chilli, ginger, lemongrass and pumpkin, season with salt and pepper, turn the heat down to low, cover and cook for about 10 minutes till the squash is almost tender. 
Add the coconut milk and the stock, bring to the boil and cook for 5-8 minutes more, until the pumpkin is completely tender.
Remove from the heat then add the F1 Savoury and the PPP and liquidise until smooth and return to the pan. When ready to eat, reheat the soup gently if its cooled down, season with fish sauce to taste, adding a little more stock to thin it out if you wish. Sprinkle with basil, then serve.
This soup will keep covered in the fridge for a few days. Reheat thoroughly to serve. It can also be frozen for a few months.
 
Nutrients per serving*:
Protein: 7g
Kcals: 138
Fibre: 2g
Fat: 9g
Carbs: 9g
Sugar: 5g
The below will be placed as a general disclaimer so we don't repeat for each recipe
* Based on 8 servings in total; only when prepared as instructed on the product label does our product deliver the full nutrition benefits described on that label; please remember that if a Herbalife Nutrition product is used in a heated recipe, some vitamin levels in the finished product may decline in comparison to label v