Mango and Vanilla Bubble Tea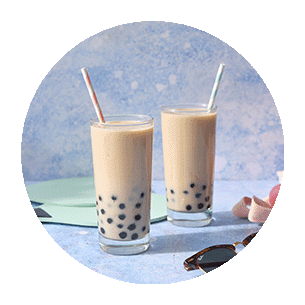 2 servings
Using Formula 1 Vanilla Cream, Instant Herbal Beverage and Microbiotic Max
Developed by our team in Europe, this mango and vanilla bubble tea recipe is a tasty treat featuring Herbalife Nutrition products. Fresh, fruity, and delicious, this bubble tea is perfect for a hot summer day.
Ingredients
2 servings (3,4 g) Instant Herbal Beverage, Raspberry Flavour
2 sachets (4g) Microbiotic Max food supplement*
2 servings (52g) Formula 1 Vanilla Cream**
2 tablespoons black tapioca
Water, approximately 400 ml
100 g mango chunks (fresh or frozen)
250 ml water
250 ml milk or plant-based beverage
Instructions
First cook the black tapioca. Place them in a small saucepan and cover with water. Place on a medium to high heat and boil for 15 minutes, ensuring the water does not evaporate (top it up with more water if it does). Take off the heat and let stand in the covered saucepan for another 15 minutes.
Meanwhile place the remaining ingredients in a blender and liquidise until smooth, except for Microbiotic Max which needs to be gently stirred into the mixture at the very end.
Divide the cooked and drained tapioca pearls between two tall glasses, wait to cool and then pour the mixture over the top. Put in a wide straw and drink the delicious drink with the chewy tapioca all at the same time.
Kcals: 232
Protein: 14 g
Carbs: 33 g
Sugars: 21 g
Fibre: 6 g
Fat: 5 g
Disclaimer
Products not available in all markets. Visit your regional site or speak to your local distributor for product details.
*Consume one sachet of Microbiotic Max per day. Do not exceed the recommended daily dose of Microbiotic Max.
Food supplements are intended to supplement the diet and should not be used as a substitute for a varied diet. Store Microbiotic Max out of reach of young children.
**Only when prepared as instructed on the product label does our product deliver the full nutrition benefits described on that label
The recommended daily dose of the mango and vanilla bubble tea should be max 1 serving daily.