The Journey to Completing a Triathlon for the First Time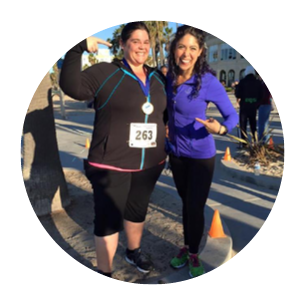 Samantha Clayton
Vice President, Sports Performance and Fitness Education
Herbalife Nutrition independent distributor Melissa and her customer Amy talk about health, their relationship and a one-of-a-kind triathlon.
Melissa: As a distributor, I'm helping people stretch to a new place in their lives and I'm helping them to feel empowered. When the body and habits are in proper alignment, there's no telling what kind of results people can get. In the same way, when I see my clients really focused on eating properly and using their nutrition programs to the best of their abilities, they get better but their mindset and their capacity to reach goals and achieve more. Where my clients are concerned, I want to be there alongside them in support. It's about setting up the plan with your client, based on Herbalife Nutrition materials and then being with that person every step of the way. The story of my client and friend Amy is an inspiring example of what can be accomplished through teamwork. Soon after we met, we started working on a plan for her to lose weight, and to keep it off, by focusing on making better food choices and getting more activity. I look at her like a sister. We've helped each other through a lot of challenges. After more than two years of friendship, she has lost weight and gotten results.*
Amy: The Herbalife Nutrition community has really been the thing that has kept me around. My relationship with Melissa is like nothing I've ever experienced before.
Melissa: Amy and I have had some great fun in the past two years. We've done a couple triathlons together and a lot of 5Ks.  Before I met Amy, her description of her wellness and fitness journey was a lot of failed attempts. A lot of trying to do it on her own and it not working and feeling discouraged and quitting really early. And I think all the things that she tried probably would have worked if she had stuck with it and had someone that was with her along the way.
There was a moment in 2016 that caught us off guard. Amy and I had signed up to do a triathlon together, but the race was cancelled at the last minute and Amy was devastated after putting in a lot of prep work including regular morning swim practices and more. As her coach and friend, I couldn't let her down. We just did the best we could to surpass her expectations. I knew that what I had in mind was going to inspire Amy.
Amy: Melissa said not to worry about it and that she would figure it out. And then a few hours later she called to say, "I'm getting the gang together, we're doing this triathlon." And the next thing you know, we're swimming/biking/running on the exact same course that the race was supposed to follow. But it didn't end there. We had bibs with our official race numbers and a team to race alongside us. After breaking the finish line tape, we all received medals made by Melissa. That personal triathlon was something that I'm never going to  forget. I appreciate it so much. Melissa went out of her way to make it special.
Melissa: I made sure that Amy's boss was there and that she brought flowers, that her brother was there and that everything was set. All of my clients were there at the finish line to cheer her on with cowbells and just the works. And we finished the whole race. We swam in the ocean. We got on our bikes and we rode the course and we ran. Amy came through the finish line, broke the tape and the pictures and support and the medal made it really special.
Amy: What I love about Herbalife Nutrition is that it's not just about these products. There's a real sense of community around it. Having that one-on-one coach to support me makes all the difference.